Diffusers - middle-size bubble
We distribute Matala membrane disc diffusers (BHB-MD225/MD310) - medium bubble.
Features and benefits
A rigid EPDM membrane with a highly durable base which is made of moulded polypropylene

Precisely perforated I-shaped slits open when air passes through and close at the end. Thanks to this function, the slits resist tearing and stay clean longer.

The standard G3/4 thread allows for a more comfortable connection

Standard stainless steel clamping rings DIN 1.4301 (AISI 304) hold the membrane firmly in place

Triple O-rings support the centre of the diaphragm when no air is flowing
Matala diffuser
Model

BHB-MD225

BHB-MD310

Air flow

40 - 120 l/m

100 - 200 l/m

Disc body (material)

ABS

Nylon + laminate

Membrane

EPDM (ethylene-propylene rubber)

Fixation

DIN 1.4301 stainless steel - clamping ring

Connection

G3/4 thread

Diameter

225 mm

310 mm

Weight

350 g

907 g
ALO diffuser - fine bubble
Technical data

Disk - 250

Disk - 320

Material

Membrane with precise holes

Support container

 

High quality EPDM (ethylene-propylene rubber)/silicone

ABS

Diameter

250 mm

320 mm

Bubble size

1 – 3 mm

1 – 3 mm

Air flow

28 - 70 l/m

50 - 100 l/m

Connection

G3/4

G3/4

Ambient temperature

0 – 100 °C

0 – 100 °C

Effective diffusion surface

0,043 m2

0,068 m2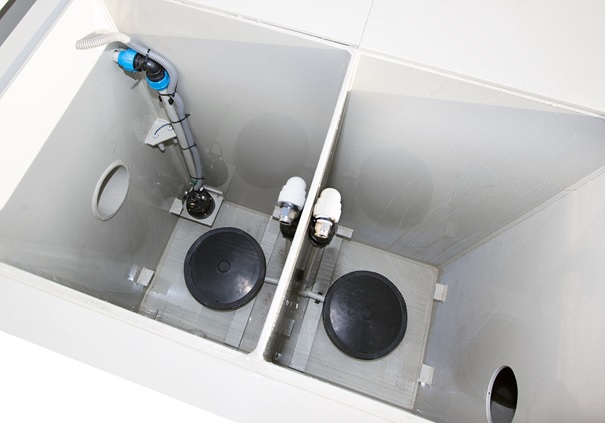 Diffusers Matala, ALO
Size calculator
Please input desired hydraulic flow and suspended solids content. Our calculator will suggest you optimum size of machine...
WT primary sludge - raw sludge from activation (ČOV – surový kal z aktivace):

0,5–1%

WWT secondary sludge - after final settling tank (ČOV – stabilizovaný, zahuštěný kal):

1,5–4 %

Sludge from DAF (Kal z flotace):

2–4 %

Biogas station sludges (Kaly z produkce bioplynu):

4–6 %

Grease traps, oil separation (Lapáky tuku, olejové aplikace):

4-6%
Capacity of MP-DW - dry material flow per hour :
MP-DW-131: 10 kg/h
MP-DW-201: 30 kg/h
MP-DW-301: 60 kg/h
MP-DW-302: 120 kg/h
MP-DW-401: 140 kg/h
MP-DW-402: 280 kg/h
MP-DW-403: 420 kg/h