Dewatering screw press MP-DW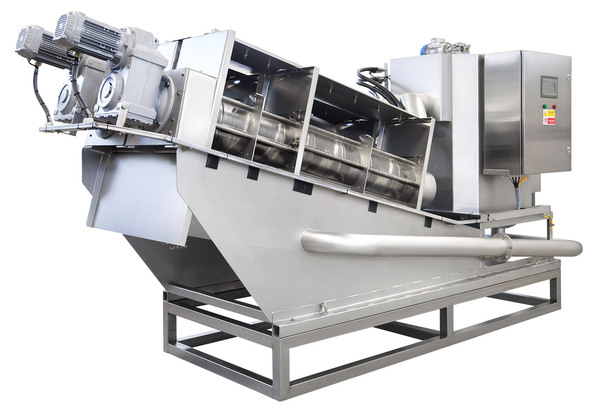 Dewatering machine MP-DW
Dewatering machine is used for separation of suspended solids from sludge water originating from municipal WWTp, food industry or other fields of human activity.
Inquiry
Size calculation
Dewatering screw press is used for efficient thickening and dewatering of sludge waters. Sludge waters are water, containing certain amount of suspended solids, these can be product of waste water treatment, food proccessing industry, chemical industry and other branches of human activity. Our dewatering screw press, which serves to thicken sludge water to 20% dry-matter content on municipal sludges and more for mineral/industrial sludges, can provide efficient desludging. In terms of quality, this equipment surpasses traditional sedimentation sludge removal and other technologies.
This dewatering/thickening screw press has been designed to be used primarily in wastewater treatment plants, but can also be used for thickening both industrial water and wastewater in food-processing operations.
If a dewatering press is already incorporated into the new WWTP design, costs related to te construction of sedimentation tanks are eliminated as this equipment can also be used for thickening secondary sludge directly from activation.
Benefits of the screw press:
low energy use
simple installation and operation
0.5-2% sludge at inlet, 15-20% sludge at outlet
low noise and vibration levels
wide use applications
automated mode
affordable spare parts
low transport weight
economical operation also for smaller WWTP (already from 500 equivalent)
high quality workmanship, manufactured in the Czech Republic
We can offer following accessory for dewatering screw press:
Conveyors for solid cake transportation
Automatic or manual polymer preparation units
Custom made stainless steel support frames (with walking platform, stairs...)
Flowmeter for sludge meassuring
Auxiliary dosing pumps for coagulants/pH adjustment with integration into control system
pH meassuring
Built-in container instalations
Dewatering machine MP-DW
Size calculator
Please input desired hydraulic flow and suspended solids content. Our calculator will suggest you optimum size of machine...
WT primary sludge - raw sludge from activation (ČOV – surový kal z aktivace):

0,5–1%

WWT secondary sludge - after final settling tank (ČOV – stabilizovaný, zahuštěný kal):

1,5–4 %

Sludge from DAF (Kal z flotace):

2–4 %

Biogas station sludges (Kaly z produkce bioplynu):

4–6 %

Grease traps, oil separation (Lapáky tuku, olejové aplikace):

4-6%
Capacity of MP-DW - dry material flow per hour :
MP-DW-131: 10 kg/h
MP-DW-201: 30 kg/h
MP-DW-301: 60 kg/h
MP-DW-302: 120 kg/h
MP-DW-401: 140 kg/h
MP-DW-402: 280 kg/h
MP-DW-403: 420 kg/h