Manual polymer stations - MSP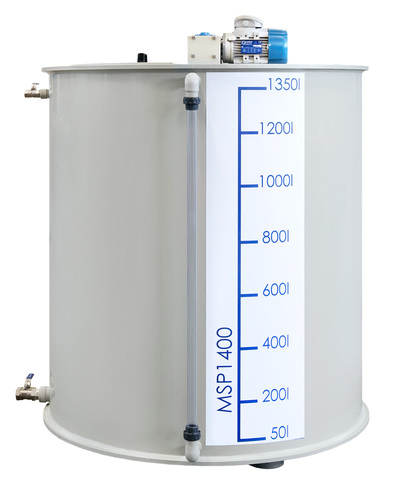 Manual polymer stations - MSP
Manual polymer stations are used for making polymer-water solution. Station is cylindrical tank, equipped with agitator. Filling with water, dosing of neat polymer and agitator switching is manual, to be performed by operator.
Inquiry
MSP are made in various volumes (300, 600, 1100, 1400 a 2600l). Tanks are typically equipped with visual level indication, 3ph agitator motor with manual switch and minimum water level indication.
Manual polymer stations - MSP
Size calculator
Please input desired hydraulic flow and suspended solids content. Our calculator will suggest you optimum size of machine...
WT primary sludge - raw sludge from activation (ČOV – surový kal z aktivace):

0,5–1%

WWT secondary sludge - after final settling tank (ČOV – stabilizovaný, zahuštěný kal):

1,5–4 %

Sludge from DAF (Kal z flotace):

2–4 %

Biogas station sludges (Kaly z produkce bioplynu):

4–6 %

Grease traps, oil separation (Lapáky tuku, olejové aplikace):

4-6%
Capacity of MP-DW - dry material flow per hour :
MP-DW-131: 10 kg/h
MP-DW-201: 30 kg/h
MP-DW-301: 60 kg/h
MP-DW-302: 120 kg/h
MP-DW-401: 140 kg/h
MP-DW-402: 280 kg/h
MP-DW-403: 420 kg/h